Online event: A joint effort - Understanding what is good for your joints
Event status: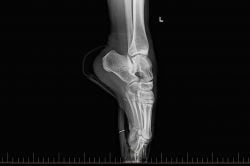 Many factors impact the health of our joints over our lives, and some people will develop joint pain and conditions like osteoarthritis. From surgery to alternative medicines, there are many different schools of thought on how to effectively treat joint conditions. However, one of the most promising preventative treatments is physical activity.
Date:

Thursday 25 June 2020

06:00 pm

until Thursday 25 June 2020

07:15 pm

(Add to calendar)

Contact:

Lauren Elliott - University Events
events@latrobe.edu.au

Presented by:

Bold Thinking Series

Type of Event:

Community Event; Public Lecture

Cost:

Free to register
Photo credit: © The Australian Ballet, X-ray Imagery 2019
---
La Trobe University's partnership with The Australian Ballet has been combining expertise in sports medicine and dance to deliver world-first research findings on joint management and treatment. The science of what keeps ballet dancers at peak performance can be applied beyond the rehearsal room and mainstage, to pioneer new prevention and rehabilitation programs for athletes and members of the wider community.
Our online Bold Thinking panel discussion will showcase La Trobe's innovative research in human movement and sports science, which is rated 'well above world standard'[1].
Renowned sports medicine researcher Professor Jill Cook will be joined by Dr Sue Mayes AM, the Director of Artistic Health at The Australian Ballet, and Professor Kay Crossley, the Director of La Trobe's Sport and Exercise Medicine Research Centre (LASEM).
The panel will explore traditional and emerging options for diagnosing joint issues, managing joint pain and protecting joint health.
[1] Australian Research Council, 2019, Excellence in Research for Australia (ERA) Outcomes 2018
Panelists:
Professor Russ Hoye
Dean, School of Allied Health, Human Services and Sport
Russ is Dean of Allied Health, Human Services and Sport at La Trobe University, one of Australia's leading health science schools with 230 staff serving 4,000 students.
His research interests are in corporate governance, public policy, volunteer management and the impact of sport on individuals and society. He has led the development of the La Trobe Sports Park, an $81m investment in world-class teaching, research and participation facilities for sport on the Bundoora Campus of La Trobe University.
Professor Jill Cook
Sports Medicine Research, La Trobe University
Jill is a professor in musculoskeletal health in the La Trobe Sport and Exercise Medicine Research Centre, researching sports medicine and tendon injury.
Since completing her PhD in 2000, Jill has investigated tendon pathology, treatment options and risk factors for tendon injury. She currently supplements her research by conducting a specialist tendon practice and by lecturing and presenting.
Dr Sue Mayes AM
Director, Artistic Health, The Australian Ballet
Sue joined The Australian Ballet company in 1997 after graduating from La Trobe in 1990 with a Bachelor of Applied Science (Physiotherapy), and a Graduate Diploma in Sports Physiotherapy in 1996, and finished her PhD with La Trobe University in 2017. In 2018, Sue was awarded a La Trobe Distinguished Alumni Award and is now an Adjunct Research Fellow at La Trobe University.
Sue published findings from her research on ballet dancers as part of her PhD, and has been highly sought-after to advise and treat dancers and athletes both locally and internationally.
Professor Kay Crossley
Director of La Trobe Sport and Exercise Medicine Research Centre
Kay is the Director of the La Trobe Sport and Exercise Medicine Research Centre.
Kay's main research focus is on the prevention and management of musculoskeletal injury and early-onset osteoarthritis after sports-related injuries.
Kay is a physiotherapist with many years of experience in clinical sports physiotherapy.
Dr Wade Kelly
Panel Moderator
Wade is the Senior Coordinator Research Impact at La Trobe University. He is passionate about knowledge-sharing with a focus on how academics exchange knowledge with the public and communities.
Wade has been working with adult learners in public and private institutions for almost two decades in a variety of roles. As part of his mission to make learning more accessible to the general public, he has hosted Nerd Nite in three cities.
He is frequently engaged by various media outlets, including having his story from the Moth Grand Final 2018 aired across Australia by the ABC.
Amber Scott
Principal Artist, The Australian Ballet
Amber Scott joined The Australian Ballet School at age eleven. After graduating as dux, she joined The Australian Ballet in 2001. In 2003 she spent four months on a dancer exchange at the Royal Danish Ballet, giving her the opportunity to learn the Bournonville technique firsthand.
Amber was promoted to principal artist in 2011 after performing the Second Movement from Sir Kenneth MacMillan's Concerto. Her career highlights include working with Wayne McGregor on Dyad 1929 and Chroma, as well as dancing with Robert Tewsley during the 2008 Manon season, Damian Smith in Christopher Wheeldon's After the Rain Pas de Deux in 2012 and David Hallberg in Alexei Ratmansky's Cinderella in 2013.
Online Series
La Trobe University, Melbourne Campus

Discover La Trobe's public lectures. Learn more
Search