Issue 10 - August, 2014
In this issue
Congratulations Hannah – Para Cycling Road World Cup
Launch of new resource to support people with disabilities
Sport in regional Australia - Conference
Research updates
Conferences
Sport Unpacked
Recent publications
Media
---
Congratulations Hanna – Para Cycling Road World Cup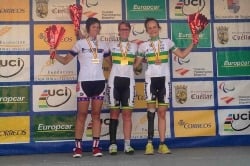 Hannah MacDougall, PhD Candidate, has recently returned from the 2014 Para Cycling Road World Cup held in Segovia. Hannah competed in the 22km Individual Time Trial and 64km Road Race in the Women's C4 category. This was Hannah's first time back in the green and gold since she hung up her bathers at the end of 2009. While facing extremely hot conditions (35 degrees), Hannah managed to come fourth in the time trial with power personal bests and just missed out on a medal by 14 seconds.
Alex Green and Sue Powell, both from Australia, picked up the Silver and Bronze.
The conditions for the Road Race were again extreme, with lots of water being thrown over riders during the feed zone for each lap of the 8km circuit. Hannah surprised herself and was in the bunch for the sprint finish and managed to claim the Bronze Medal for Australia. Naturally during her time in Spain, Hannah still managed to conduct interviews via Skype for her PhD as well as watch the TDF each afternoon, albeit in German.
Hannah is now back into training for the National Track Championships that will be held in Melbourne in December. This will be an opportunity for Hannah for qualify for the Track World Championships in the Netherlands next year. Read Hannah's full race report.
---
Be prepared! Sport and active recreation programs for people with a disability: A resource for volunteers and staff
Sport and active recreation programs provide unique opportunities for people with disabilities to explore their potential and focus on their ability.
A new website and resource guide has been prepared for volunteers and staff who play an important role in providing quality sport and recreation experiences for people with disabilities.
Launched by the Honourable Sport and Recreation Minister Damian Drum on 1 July 2014, the website and resource is a must read for volunteers and staff working in this sector. It was developed by Pam Kappelides (p.kappelides@latrobe.edu.au) from the Centre of Sport and Social Impact at La Trobe University.
Left to right: Ann Nicholson (Eurobodalla Shire Council), Gosia Barcikowska (People Outdoors), Pam Kappelides (La Trobe University), Damian Drum (Minister for Sport and Recreation), Russell Hoye (La Trobe University) celebrating the launch.
---
Conference announcement – Sport in regional Australia
November 10-11, 2014
Capital Theatre, Bendigo, Victoria
Please join us for the Sport in Regional Australia industry conference, focusing on issues that are important to sport in regional and rural Australia, with outstanding keynote, panel and workshop presenters.
Highlights
Keynote speech on Day 1 from Bernard Salt, world leading demographer at KPMG
Keynote speech on Day 2 from Ric Charlesworth, Australian Master Coach
Panel sessions and workshops exploring key issues relevant to sport in regional and rural Australia
All-inclusive early bird price of $280 available until 30 September
A pair of PEAK F'lites sport shoes valued at $119 included with every registration
Cocktail networking function at the Bendigo Art Gallery to end Day 1
Delegates
This conference is ideal for people working or volunteering in:
National sport organisations
State sport associations
Regional sport assemblies
Local governments
Sport academies
Sport leagues and associations
Sport clubs
Sport facilities
Coaching roles.
Be sure to register early so you don't miss this opportunity.
---
Research updates
Emma Sherry
Netball Victoria - SSAPP Netball for All Evaluation (Year 4). $18,000 with Professor Russell Hoye. This study is an extension of the VicHealth State Sport Association Participation Program partnership with Netball Victoria aiming to increase netball participation in Culturally and Linguistically Diverse populations.
Tennis Australia - Community Partnerships Evaluation. $30,000 with Professor Russell Hoye. This project aims to evaluate the Community Partnerships Programs, by addressing the following evaluation objectives:

Conduct a summative evaluation of two current tennis inclusion programs with a focus on Indigenous Outreach/Participation and the Australian Tennis Championships (intellectual disability).
Conduct a baseline survey of knowledge and attitudes related to diversity/inclusion (TA staff and potentially volunteers, coaches, etc.).
Design a program evaluation plan for 1-2 signature participation and/or social impact programs.
Advise Tennis Australia on the design of an overall evaluation of the Community Partnerships unit.
---
Conferences
Stukas, A. A., Hoye, R., Nicholson, M., Brown, K., & Aisbett, L. (June 2014). Other-oriented and self-oriented motivations to volunteer and differences in well-being. Presented at the biennial meeting of the Society for the Psychological Study of Social Issues, Portland, OR, USA.
---
Sport Unpacked: Risk management in the fitness industry
In the 22nd episode of Sport Unpacked, Professor Russell Hoye (Director, La Trobe Sport) talks to Professor Patrick Keyzer (Head of La Trobe Law School, La Trobe University) about risk management in the fitness industry.
What sort of risks are associated with fitness, and how can they best be minimised or resolved?
Professor Keyzer speaks about the recently completed Australian Fitness Industry Risk Management (AFIRM) Project, funded by an Australian Research Council Linkage Project Grant.
You can subscribe to this podcast or listen to previous episodes in the Sport Unpacked podcast. You can also follow both speakers on Twitter: @RussHoye and @Patrick_Keyzer.
---
Recent publications
Book chapter
Emery, P., Frost, W. & Kerr, A., 2014, 'On the March with the Barmy Army' in T. Baum and R. Butler (eds), Tourism and Cricket: Travels to the Boundary, Bristol, Channel View Publications Ltd.
Journal articles
Gallant, D., Sherry, E. and Nicholson, M. (in press) 'Recreation or rehabilitation? Managing sport for development programs with prison populations'. Sport Management Review.
Kerr, A. & Emery, P. 'Beyond Tippekampen: the origins and maintenance of Scandinavian support for the Liverpool FC', Soccer & Society, published online, 15 July 2014.
Nicholson, M., Sherry, E. and Osborne, A. (in press), 'Negotiating National Identity through Loss: Australian Newspaper Coverage of the 2010 FIFA World Cup, Soccer and Society.
---
Media
Biju Philips' Foundation sports4all featured in a newspaper article by D. Radhakrishnan, Soccer brings tribal children together, The Hindu,18 May 2014.
---
Liam Lenten made several media contributions on his research into Sports Economics and the World Cup in Brazil.
'Stop tanking: rank draft picks by finals exist, not ladder' Talking Point, Australian Financial Review, 31 July 2014, p. 51
"GOAL! A better alternative to penalty shootouts", Australian Financial Review, 15 July, 2014.
ABC Radio National, 1 July 2014 Liam was interviewed by Waleed Aly. They discussed a simple rule-change proposal, based on economic principles, that he believes would produce better scoring outcomes in extra-time and diminish reliance on the game's cruel version of Russian roulette to decide the winner.
'Sleepless in Skipton: Long slog for local soccer fans', Australian Financial Review, 27 June 2014.
---
For further inquiries or suggestions, please contact:
Professor Russell Hoye
Director CSSI
Faculty of Business, Economics and Law
La Trobe University Bundoora VIC 3086
T: +61 (0) 3 9479 1345
E: r.hoye@latrobe.edu.au