Malaysia PALTUM Chapter
Persatuan Alumni La Trobe University Malaysia (PALTUM) was formed in 1994. The chapter provides an excellent opportunity for graduates to reminisce about the bonds and friendship cultivated during our student days, and a channel for communication and networking to continue these fine and indelible memories. It is also an opportunity for alumni to pay tribute to our alma mater for the rewarding education and enriching experience that we have received.
La Trobe University is proud to count two of its most high-profile alumni, His Royal Highness Crown Prince, DYTM Tuanku Syed Faizuddin Putra Jamalullail is currently the Patron-in-Chief, and his consort, Her Royal Highness Crown Princess, DYTM Tuanku Hajah Lailatul Shahreen Akashah is the Chairperson. HRH the Crown Princess is pictured here with Andy Choong, Deputy-Chair of the chapter.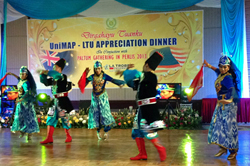 In 2013, the chapter arranged a fantastic weekend trip to Perlis and Hatyai for Malaysian alumni. The weekend included wonderful visits to scenic sites in Perlis and Hatyai, delicious food, and a celebratory dinner with singing and dancing. Read an event report for more information.
For further details, or to contact the chapter, please contact the Alumni and Advancment Office at alumni@latrobe.edu.au or call +61 3 9479 2011