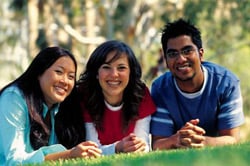 Fostering an environment free from discrimination and harassment
The principal role of the La Trobe Equality and Diversity Centre is to promote full and equal participation of all students and staff of La Trobe University and to foster an environment free of discrimination and harassment.
Disability support staff can provide support to students to ensure they are able to participate fully and to the best of their ability.
Discrimination and harassment of people on the basis of irrelevant characteristics is unacceptable at La Trobe.
Support programs to assist Low income and disadvantaged students who have experienced a range of difficult circumstances
Become a Network member and undertake training to improve your awareness around issues specific to the Gay, Lesbian, Bisexual, Transgender, Intersex and Queer (GLBTIQ) individuals.
Equal opportunity at work policies provide confidence to employees that they will be treated fairly and receive equal access to opportunities.
Information and teaching tips on working in a culturally diverse university.
Equality and Diversity news and events.