Partnerships
La Trobe's Mildura Campus has a long history of building partnerships that strengthen the learning experience for our students. La Trobe University is committed to the local community of Mildura and we are involved with a number of festivals and events that not only benefit our students, but the entire district. We are devoted to building partnerships that are mutually beneficially for our students, alumni and local industry.
SuniTAFE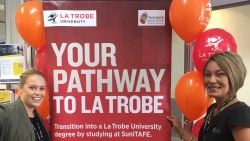 La Trobe University and SuniTAFE are committed to providing more higher education opportunities for our local students. Our SuniTAFE pathways provides students in our district the opportunity to begin their studies at TAFE as a stepping stone pathway to University. For some courses, La Trobe offers SuniTAFE students an Early Bird offer, which means you can register for a conditional offer with La Trobe while you're studying at SuniTAFE and guarantee your place in your chosen degree.
We've come together with SuniTAFE to offer students a unique opportunity to complete a diploma and degree in one package. Our dual enrolment program offers students a streamlined pathway to gaining both qualifications at no extra cost.
Australian Print Triennial
La Trobe University is the higher education partner of the Australian Print Triennial. The Australian Print Triennial is a major international art event that occurs in Mildura spearheaded by The Art Vault . This event brings together artists, academics, art ambassadors and practicing print makers from Australia and overseas to Mildura, to engage in a celebration of printmaking and its significance in modern Australia's Art culture.
At La Trobe University we offer a unique Creative Arts program and our partnership with the Australian Print Triennial means our students get exclusive access to acclaimed practicing artists while they are studying. Our partnership allows our students to partake in an intensive placed based subject called Mungo Prints: In the field at no cost. This exclusive learning opportunity is a five-day workshop and residency in Mungo National Park where students experience an artist's residency in action. Students travel to Mungo National Park and stay on site whilst they observe and evaluate how an established professional artist approaches research and preliminary field work.
Agribusiness industry
Sunraysia is known around the world as a major food producer and it needs highly skilled agribusiness professionals to meet the growing demands of the industry.
La Trobe University has partnered with Chances for Children, Wakefield's Transport, Nangiloc-Colignan Farms and Mildura Fruit Company to offer students an exciting scholarship and work placement program.
Wakefield's Transport, Nangiloc-Colignan Farms and Mildura Fruit Company have donated $75,000 towards scholarships for students studying the Bachelor of Business (Agribusiness) at La Trobe's Mildura Campus.
The Chances for Children and Mallee Family Care scholarships are worth $5000 per year for the duration of a student's three-year agribusiness degree.
To further enhance the student's learning experience, there is a guaranteed work placement within a local agribusiness organisation in the second or third year of the degree. This work placement allows students to put theory into practice, be mentored by experienced agribusiness professionals and boost their employability in preparation for entering the job market.
More information on applying will be available soon.
Sunraysia Football and Netball League
As one of Australia's leading sports universities, we are committed to strengthening the retention of youth in the district by combining study and playing sport. The Sunraysia Football and Netball League awards two first year students, studying at the Mildura Campus and playing in the Sunraysia Football and Netball League with a scholarship to support their studies. La Trobe University demonstrates their commitment to the local league by sponsoring the local netball umpires.
Mildura Writers Festival
La Trobe University is the higher education partner of the Mildura Writers Festival.
Beginning in 1994, the Mildura Writers Festival has evolved to be acclaimed among the finest literary festival in the country, not only because of its literary pleasures, but also because of the talent it attracts. La Trobe University has been associated with the festival since its inception. This partnership allows our students the opportunity to partake in a subject, embedded into the festival, called Writers in Action. Writers in Action is a unique learning experience that provides our students with exclusive access to the writers and authors of the festival.
Mildura Rural City Council
La Trobe University and Mildura Rural City Council are both committed to ensuring local students have every opportunity to access higher education in the region. In 2016 both organisations signed an agreement for a five year plan together, which identifies opportunities and collaborations between the two organisations. Amongst the broad areas for operation are:
Development of teaching and research priorities in Mildura
Maximising research outcomes for the benefit of La Trobe and the community
Supporting regional economic and jobs growth by promoting Work Integrated Learning opportunities for students in the region
'As Mildura's university, La Trobe is delighted to be strengthening and further enhancing our partnership with the Mildura Rural City Council.
'This MOU affirms our commitment to working with the City to identify and develop opportunities around infrastructure, teaching and research,' Professor John Dewar, La Trobe University Vice Chancellor said.
Mr Gerard José, CEO of Mildura Rural City Council, said the agreement would further support Mildura's development as a vibrant regional centre.
"Agreements like this ensure a strong future for higher education in our region," he said. "We are very fortunate to have a world class university campus in our city offering internationally-recognised education opportunities".
Mildura Teaching School model
La Trobe University's Education staff at the Mildura campus are closely connected with the local school community. This partnership has allowed our Education staff to implement a very successful La Trobe Teaching School within a number of our local Mildura primary schools. This pioneering program, for students studying the Bachelor of Education (Primary) at the Mildura Campus, offers pre-service teachers more professional placements within a school during their degree. Students in the Teaching School Program work within a school two days a week for an entire school year. Having students fully immersed within a school culture, whilst still at University, enables them to enter the workforce more confident. In the video below you can hear from students on their experience participating in the Teaching School and a graduate who went through the program.