Preventing Violence Together: United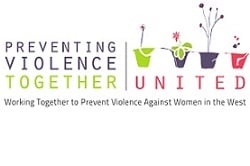 Welcome to the Preventing Violence Together: United survey
Your organisation is a partner in the Preventing Violence Together: Western Region Action Plan to Prevent Violence against Women. This partnership project called 'United' was awarded funding under the Reducing Violence against Women and their Children grants program, part of the Victorian Government's Community Crime Prevention Program.
What is the United project?
The United project works to support partners to implement a range of strategies in their organisation that aim to prevent violence against women through the promotion of gender equity and respectful relationships. You can contribute to the promotion of equal and respectful relationships in the workplace by participating in this survey. The survey will explore gender equity and the nature of respectful relationships within your organisation. When we refer to gender equity here, we mean 'fairness and justice in the distribution of rights, responsibilities and resources between women and men according to their respective needs'.
If you would like to know more about the United project and your organisation's participation in the Preventing Violence Together Partnership, then please contact Stephanie Rich, Women's Health West, (Tel: 03 9689 9588. Email: stephanier@whwest.org.au).
How long will the survey take?
This survey should take around 15 minutes to complete. You will not be able to save your answers for a later time. However, you may exit at any time without submitting and come back and start the survey again if you so choose.
How will my responses be used?
Dr Sue Dyson and Dr Lizzie Smith from the Australian Research Centre in Sex, Health and Society (ARCSHS) will be analysing the survey data as part of their evaluation into the Preventing Violence Together (United) project. This will go to Women's Health West and the Department of Justice who have funded the project. The partner organisations will also receive a brief report on the data from their organisation. This report will not have any identifying information—your responses will be kept confidential.
Will anyone know it is me?
All responses are confidential and anonymous – no identifying details are required. Your responses will not be identifiable as yours and so once you have completed this survey, we will not be able to remove your contribution. All resulting data will be kept on a password-protected computer at La Trobe University until five years after the end of the project. At which time it will be securely destroyed.
What if I have a concern or complaint?
Any questions regarding this project may be directed to the investigators Dr Sue Dyson (Tel: 61 (0)3 94798710. Email: S.Dyson@latrobe.edu.au) or Dr Lizzie Smith (Tel: 61 (0)3 94798732. Email: E.Smith3@latrobe.edu.au). If you have any complaints or queries that the investigators have not been able to answer to your satisfaction, contact the Secretary, Faculty Human Ethics Committee, Faculty of Health Sciences, La Trobe University, Victoria, 3086, phone (03) 9479 3583 or email fhechealth@latrobe.edu.au. The Ethics Committee reference for this project is FHEC13/105.
Is there a prize draw for filling out the survey?
If you complete and submit the survey you will be eligible to enter a draw to win a $200 Coles/Myer gift card. Once you hit the 'done' button at the end of the survey, another page will open asking you for your email address. Your email will go to a separate data base and will not be able to be linked to your survey responses, which means your response remains anonymous.
What if I want to stop doing the survey?
If once you start you decide to stop doing the survey simply close the browser and your previous answers will not be saved.
Where can I complete this survey?
To fill out the survey, please click here.
As well as on a computer, this survey can also be completed on your smart phone or tablet.