inContext - Running a Business: Life at the Bar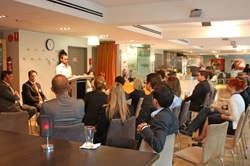 On Tuesday, 13 November 2012 an enthusiastic group of La Trobe Law alumni attended the La Trobe Law Alumni Chapter's first inContext seminar entitled Running a Business: Life at the Bar.

The seminar was presented by a panel of four La Trobe Law alumni – Samantha Cipriano, Jason Kane, Matthew Kennedy and Elefteria (Teri) Konstantinou – all of whom are experienced members of the Victorian Bar. The panel was also chaired by Dr Keith Kendall from the La Trobe Law School.

The panellists spoke candidly and in detail about their experiences as barristers and answered numerous questions from the floor during the course of the evening. Attendees – many of whom have aspirations of, or are considering, going to the Bar – commented that they appreciated being given direct and practical insights from other La Trobe Law alumni with personal experience of practising as a barrister.

The La Trobe Law Alumni Chapter was delighted with the success of the first inContext seminar. The inContext seminar series will continue in 2013 and will consist of La Trobe Law alumni speaking on issues that are relevant to specific groups within the La Trobe Law Alumni population.

La Trobe Law alumni who would like to offer their services for presenting inContext seminars on a particular topic, or who have suggestions for future topics, are invited to contact Karl Brown in the University's Alumni and Advancement Office on 03 9479 1190 or by email to karl.brown@latrobe.edu.au.
For more information about the Law Alumni Chapter, visit the chapter's web page

Please also remember to 'like' the Law Alumni Chapter's Facebook page where you can also find photos from this event.